Thursday, July 20th, 2006
---
2:20 am
Hello hello hello

Just as I thought. Echos, anyone out there? How are all you cats doing? I forgot this thing existed. And it's funny to read, because no matter what you think you know, or how much you think you have things planned out, a lot of shit changes in five years. A fucking lot. I never thought I'd be doing what I am today, and in five years I'm sure I'll be somewhere doing something that I never saw now. Adios, I'll let you in on the important things onlinelivejournalthing.

And celeste, because I feel you'll probably read this, and this thing reminds me of old phone conversations, I just wanted to let you know, Jerome the computer is doing just fine.

-chris
Tuesday, November 15th, 2005
---
1:12 am
A dog went to a telegram office, took out a blank form and wrote: "Woof. Woof. Woof. Woof. Woof. Woof. Woof. Woof. Woof." The clerk examined the paper and politely told the dog: "There are only nine words here. You could send another 'Woof' for the same price." The dog replied, "But that would make no sense at all."
Tuesday, September 6th, 2005
---
2:04 am
College has made me organize myself.

I need to get my fucking Skyline GT-R to Class 1 in Juiced. ARGGG!

-chris
Wednesday, August 3rd, 2005
---
12:21 am
Fuck this shit, I'ma go watch some T-v!
Thursday, July 14th, 2005
---
1:28 pm
I got a new mini fridge and it's dope as hell. Part of it is metal so somehow that part is a freezer even thoguh it's in the same compartment. Doens't make sense right? I thought the same shit til I checke dit this mornign and I got ICECUBES mawfuckas... ICECUBES!

Thank you Matt and Eve for that. Good luck in Baltimore guys.

Work tonight then maybe the track tomorrow if I have time, then NYC for a week. Word!

I've got around 700 dollars cash chillin in my room right now, it's cool. I owe a little of it here and there. I'll figure that out. It's still 700 dollars, which is cooler than 70 dollars and way cooler than 7 dollars.

I hope it rains so not a lot of people come in tonight.

I need to try and get tickets to Conan and Carson while I'm up in NY as well.
Monday, July 11th, 2005
---
12:01 am
- And so it goes.
I'm going to New York Friday or Saturday, I don't know I have to look again, just incase I'm gone and you don't know where I am.

Also, I just applied for a job as a Pharmacy Technician with HPBC, I hope I get it.

-chris

current mood:
tired
Monday, July 4th, 2005
---
1:26 pm
- ...
If anything, I fuckin love Tom Culler.
Sunday, July 3rd, 2005
---
12:37 am
- Hot Import Nights
12/10/2005
1901 Convention Center Dr.
Miami, FL 33139
Hours: 5pm-12am

I need to be SC at least by then! TRD lip and more wouldn't hurt, anyone wanna loan/give me a couple grand?



There's a radio station I've found from Miami in my 2 trips there in the last 2 days, and they always play that ASAP song by T.I. that I hated at first, but is really stuck in my head now, what the fuck 103.5 kill yourself. Adn fuck you Airplay for my Ipod for crapping out when I go south of Boynton no matter what station I put you on for no fucking reason at all you piece of shit I'll fucking crucify you.

-chris

current mood:
bored
Wednesday, June 22nd, 2005
---
2:45 am
Fuck the following people...

Whoever broke Jacob's window.
Whoever hit Butch.
Ramsay Merrit Stevens.

This is all.

current mood:
PISSED THE FUCK OFF!
Tuesday, June 21st, 2005
---
12:52 am


Hahahahaha!

-chris

current mood:
bored
Sunday, June 19th, 2005
---
10:28 pm
I love my e-mail.

"The new pro viagara, is finaly heere birthday".

Word.

current mood:
meh
4:59 am
Tomorrow off work. Gotta get in touch with Dane about BestBuy, I'm serious man I do want to work there, I'm sick of my pizza place, everyone thereis retarded, I like my managers, but oh well.

Up til 5 reading shit about cars. Talking to STAPLES, you know how we do.

-chris

current mood:
blah
Friday, June 10th, 2005
---
4:17 pm
I got the 75% bright futures, which is sweet because that's pretty much money in my pocket, plus my dad told me he'd give me 500 dollars straight up if I got it, all I gotta do is finish sending out thank you notes from graduation.

I hate work.

-chris
Monday, June 6th, 2005
---
12:51 am
So I got the Solara up over 130 with the help of a bridge, and I disaled the DRLs and nighttime sentinel auto lights today. Next plans include either clear sidemarker lights, clear CF backed taillights, or an injen short ram with CAI extension... Any input?

How about name ideas? not necessarily like an actual persons name, but anythign you know? there's a solara called the red knight out in cali... it's fuckin hot.

Oh yeah, and last night was fun, I've had a good last week or so for the most part.

-chris

current mood:
good
Thursday, June 2nd, 2005
---
4:52 pm
Discovering your car governs at 130 MPH is an intense discovery.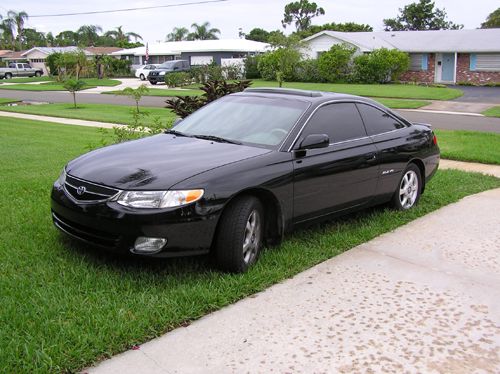 Mawfucka.
Wednesday, June 1st, 2005
---
4:44 am
"Yeah but she's really dumb"
"How often do you find a girl that's really hot and smart Chris?!?!? NOT THAT OFTEN!"

"Mike chill, she's just a hookup buddy"
"Yeah and I wanna hook up!!!"

"But there's three, how would that work?"
"One of them will always have to be walking around the car"

"Goddammit Mike"
"Goddammit Chris"

Mike Tidus is hilarious.

current mood:
blah
Tuesday, May 31st, 2005
---
3:56 am
Thank you Megan/STAPLES Balch. I fucking love you like no other.

current mood:
5
Thursday, May 26th, 2005
---
12:35 am
I need to save money for Eibach springs and a TRD supercharger for the Solara, it will take at least a year.

-chris

current mood:
tired
Friday, May 20th, 2005
---
12:48 am
Wow, I cna't beluieve this is it.

(80's) dance/ SADD club/ graduation/cassie scotts birthday/jacob leperas braces off/tom cullers birthdya/ pixie stix Party tomorrow/friday whateve rit is at ramsays, free alcohol for everyone named kremer shell, Tom and Cassie too otherwise throw down, or maybe I'll be nice or bring your own, or there will be some laying aroudn cause there always is.

Be there or suck. Ask me for a flier or call me 758-8474.

Also Mr. Armetta is the funiest man alive.

I finished my senior piece, it's cool. I'm proud I actually did one.

I cna't beleiev tomorrow is the last day I'll chill in the parking lot after shcool.

-chris

current mood:
blah
Wednesday, May 18th, 2005
---
1:40 am
My bed broke last night, so now I sleep at an angle. Me and my angle have become best friends.